CHOSGO Rechargeable Hearing Aids for Seniors Adults,Analog Hearing Aid. Best Over The Counter Hearing Aids FDA, Hearing Amplifiers with Noise Cancelling, Medicare In The Ear Hearing Aids with Charging Base,Pairs
Product features
Excellent after-sales service
OTC/FDA Registered Hearing Aids (Pair)
Excellent sound quality-natural and wonderful hearing experience
Rechargeable, no more batteries - saves you money.
Memory switch  with led indicator
Auto noise management - reduce distracting background sounds
Memory switch  with led indicator
Small Portable (Re)Charging Case - up to 20 hours of use
Simple Rocker-type control for easy adjustments -offers 7 volume levels and 2 program modes
45-day risk-free trial & 100% money-back guarantee
CHOSGO Hearing Amplifier, Comfort to Wear, Nearly Invisible, Allows You to Enjoy the Daily Sounds of Life, Perfect for Elderly with Hearing Loss.
1. The hearing amplifier for senior is pre-assembled, ready-to-wear, easy to understand, and convenient for the elderly to use.
2. Rechargeable hearing aids with noise reduction, allow you to hear the sound clearly with ease and comfort, deliver a natural, realistic and delicate sound hearing experience.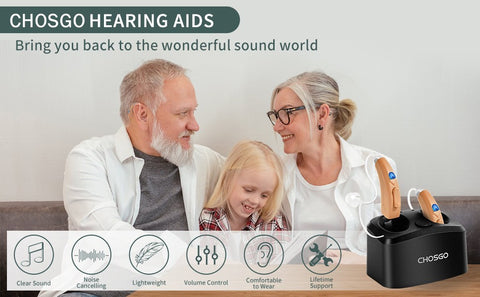 Hearing Aid with Omnidirectional Microphone, Hear the Sound from All Directions, Engage Yourself in Daily Communicate, Enjoy the Life without Limits
1. One-hand operation to adjust volume and settings. 7 volume levels and 2 program modes. Choose the appropriate volume and mode for different scenes, to help you better adapt to the surrounding environment.
2.A magnetic charging base, more than 20 hours of hearing with 3 or 4 hours of charging, provide you to listen all day without worrying about the battery running out.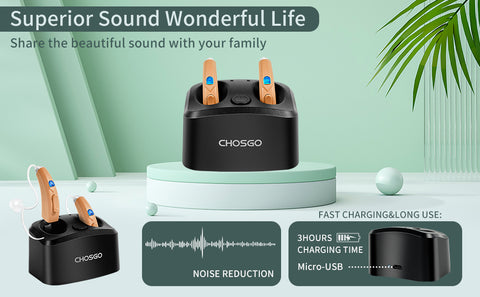 ehind-The-Ear Design is Invisible and Lightweight, Can be Well Hidden in the Ears, Not Easy to Fall Out, and Gives a Unique Comfortable Feeling for You.
Each pair of hearing device comes with different size ear domes to meet different customer ear canals. Secure fit for less pressure in the ear and effective noise isolation, long wear without fatigue.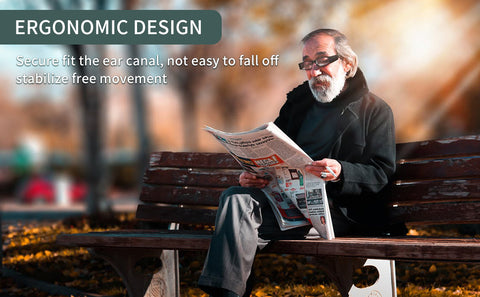 We Always Stand Behind Our Products and Customers, Understand Your Frustration When the Devices Failure, So We Work Around the Clock and are ready to Help
Our hearing aids for senior come with exquisite packaging and complete accessories, including 2 hearing aids, 2 types and 3 different sizes ear domes(12 pcs), 1 multifunctional clean brush, 1 soft cloth bag, 2 thin sound tubes (one left side and one right side), 1 power adapter and 1 Micro-USB cable, 1 user manual.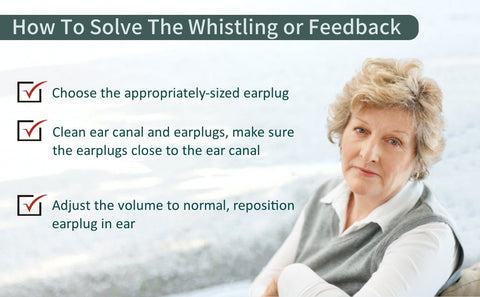 Portable Charging Case

Left and Right Bro102R hearing aids
1 Protective bag
1 Charge plug & Type-c usb cord
3 Sized different styel Ear Domes(12pcs)
1 Cleaning brush
1 pair transparent sound tube
1 User guide